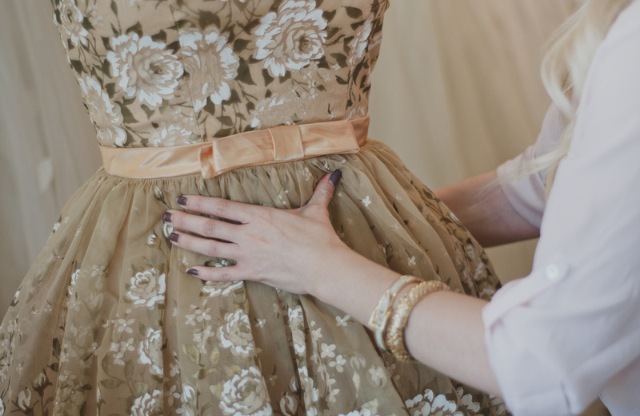 Love of Sewing, Passion for Vintage
Miranda Park, owner and founder of Miranda's Vintage Bridal and Alterations, has over 14 years experience in the bridal industry working as the lead seamstress for a Cleveland-area boutique before deciding to venture out on her own. She is an award-winning graduate of the Kent State Fashion School with a bachelor's degree in fine and professional arts, majoring in fashion design.
Miranda developed a love of sewing at a very early age. From the moment she saw the little mice sewing Cinderella's ball gown, she was hooked. She learned basic sewing skills from her mother, who made beautiful little dolls for art shows. Miranda took great enjoyment helping her mother and soon she was making things on her own. She started off small, with Barbie doll clothes and hair scrunches. As she grew, so did her sewing skills and passion for design.
In addition to sewing, Miranda has also always had a love of all things vintage. This passion was instilled in her at an early age, traveling to auctions with her grandmother who owned an antique store. She often recalls visiting with her grandmother at her store, dreaming to have a store of her own someday.
Her love of vintage grew to a love of vintage fashion as she immersed herself in the world of classic film. This passion grew deeper with every classic movie she watched. How many elementary school children could sit through "Gone with the Wind" over and over again? She finds inspiration in those old classic movies and the timeless beauties who star in them.
It is the combination of the love of sewing and the passion for vintage fashion that sparked the creation of Miranda's Vintage Bridal and drives her to bring gowns with a quality of timeless beauty and elegance to her customers.
* All main image photos courtesy of RedKite Photography *
* Video courtesy of Fox 8 New Day Cleveland *